What to look for
If this is your first wig purchase, you'll want to consider the purpose of the wig, your age and colouring, length, style, colour, quality and materials, roughly in that order.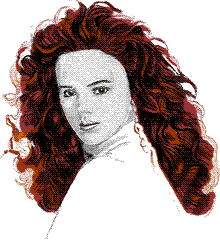 Is this wig just to have fun with? Do you dream of what it would be like to have soft blonde curls cascading over your shoulders or luxurious auburn locks reaching past your waist? If so, then your decision's easy: find it and buy it! The fact is, though, that few of us, and indeed few women, can wear styles like that every day.
If your goal is to be passable and blend in, you'll need to consider your age and colouring. Short styles are very much in keeping with today's popular active lifestyles for all ages. Older women tend not to favour longer styles. Observation is helpful here; look at what's popular among women your age and try out similar styles yourself. Don't fall into the "big hair" trap! The most passable styles need not be big and fluffy! Keep in mind that many wigs can be styled and trimmed so they're exactly right.
For your first wig, you'll probably feel most comfortable with a colour that's close to your natural hair colour. If you're greying a bit, try colours similar to what you used to have. Don't be afraid to experiment, though. Who knows, maybe you'd look great

as a redhead!
Wigs are generally made of either synthetic fibre or human hair. They may be machine-tied or hand-tied. Machine-tied wigs are often made using less hair than their hand-tied counterparts, and will usually cost a bit less. Human hair wigs are always more expensive, harder to style and somewhat harder to care for. Their chief advantages are their better appearance and texture. Synthetics are not to be shunned though; they're more affordable, easier to store and care for and pack easily for travel. A good machine-tied synthetic wig in an appropriate style can be quite affordable and completely convincing.
There are many types of hairpieces. Full-cap wigs are the most popular among crossdressers as they cover all your own hair and produce a complete effect very conveniently. If your own hair lends itself to somewhat feminine styling, a fall (an extra length of hair attached to your own) can add drama or fullness for that extra-special evening. Half-cap wigs are available but require careful colour matching and blending to look right. Hair extensions are long, thin bunches of hair carefully attached near the roots of your own hair to add length and body. They need repositioning or replacement as your hair grows out.