a parody by Stephanie, with apologies to Drs. Seuss and Freud and probably several others!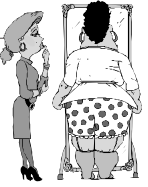 On the fifteenth of May in the wilds of Vancouver
Horton went walking and chanced to discover
A quaint little store with racks full of dresses,
And a sign on the door that said, "Welcome to Tess's."
"Oh my," whispered Horton, as he glanced down the sidewalk.
"I hope no-one sees me go try on that cute frock."
He almost succumbed to his fears and just left,
"But I have to discover my feminine self!"
"I know there's a wonderful Hortense inside of me,
But who is she? This wonderful feminine side of me?"
So he checked out the store and made sure it was vacant
Of customers, lookie-loos, buyers and vagrants.
"HELLO, MY NAME'S TESS!" boomed a voice from the back.
"AND HOW CAN WE HELP YOU? PERHAPS THIS FROM THE RACK?"
Poor Horton began quaking and shaking with terror.
"I knew going in here was a serious error!"
"COME, COME, DEARIE ME, I DON'T MEAN TO FRIGHTEN!
Please, look around freely and let your mood lighten.
I've dresses and gowns and pajamas and pantsuits,
Or if you're so inclined I've got red vinyl catsuits."
Horton began searching up high and down low.
But for what? What would suit him? He just didn't know.
Should he try on that blue sequined gown for the ball?
It would be just right for going out to the mall!
Or maybe that silver lamé skintight mini?
"Perhaps it's too small; I'm not really that skinny,"
Horton said to himself as he took a quick peek
In the mirror at himself and his muscled physique.
"But I don't want a tent and I don't want a muu- muu.
I want something that's pretty and will make folks go 'Woo-hoo!'"
When out bustled Tess, yelling, "HEY, HONEY! YOO- HOO!
Find anything yet? Try this on — it'll suit you!"
Then Horton looked over — his jaw dropped with wonder
For Tess held a beautiful dress picked from under
A sign that said "SALE!" Marked down fifty percent!
But still quite a bit more than he'd planned to have spent.
"Still, Hortense is worth it," he thought to himself.
"TRY IT ON, HONEY! SEE IF IT FITS!" bellowed Tess.
So he took it and held it and finally tried it,
And cried for sheer joy when he saw himself in it.
"It's lovely," thought Hortense, "I want it so dearly,
It slims me and trims me and hugs me so nearly,
Yet it's not at all tawdry and not the least bit sleazy;
It's flowy and pretty and cheery and breezy."
"I'll take it!" she said, without batting an eyebrow.
But Tess spoke up quickly: "DO TRY MORE THAN JUST ONE, NOW!
Here's a skirt and a blouse in a flattering style!"
So Hortense tried them on — and came out with a smile!
"NOW WHAT ABOUT — sorry, what about shoes and a handbag?
And a belt, and a coat, and a nice overnight bag,
And a necklace, and earrings —" "Oh, please stop it!" cried Hortense.
"There's so much to buy, all I'll have left is tuppence!"
Then Hortense disappeared in the back, and soon Horton
Returned to the counter to review what he had gotten.
Though it had been expensive, he thought it no loss
As he skipped out the door — and ran into his boss!